Assignment:
Cool museum kept a little too secret
We all love those great finds in a city. A charming cafe,  a specialty shop, even a scenic trail that you stumble across and consider your own little secret. But for families browsing the internet to discover new things to do with their children, one El Paso museum's website was a little too secret.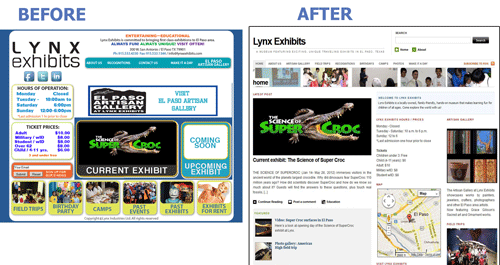 Lynx Exhibits – a unique, locally owned museum that presents nationally touring exhibits – had a bold-looking website packed with images. The biggest problem was that even the text on the pages was part of an image, which means web search engines like Google, Bing and Yahoo couldn't read them.
And, even if someone did manage to find LynxExhibits.com, they still might not get a good sense of just how cool this place was because there were no photo galleries or video or details in plain text. Lynx Exhibits needed an affordable website with more functionality. In this case the answer was to rebuild the website in WordPress using a free template. WordPress has widgets to add in new features and serves as a simple content management system that the Lynx Exhibits staff can modify and update as needed.
Using WordPress blogging, the new LynxExhibits.com allows for the museum's stories to be in text, video and photo galleries. Teaser text is added using keywords to promote additional museum services and news.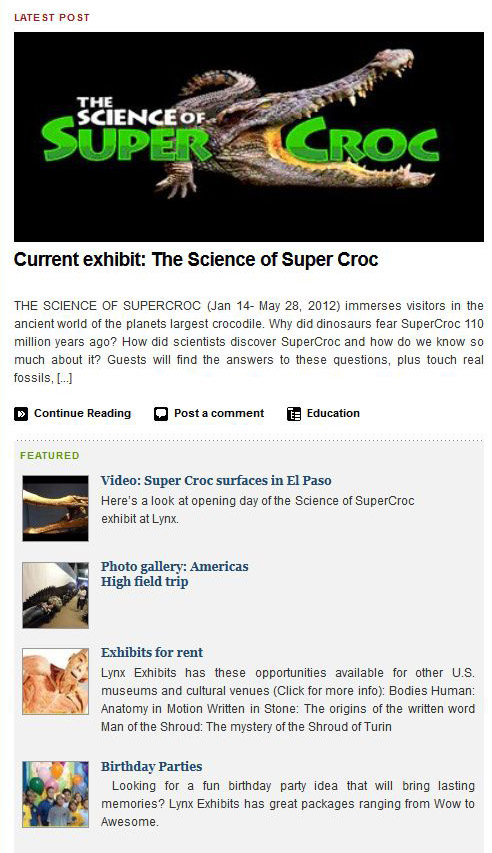 The site is optimized for search engines and now appears in keyword searches, attracting thousands of new page views.
Other benefits
– Dynamic, interactive vs. static
– Visitors can leave comments
– Smart metrics: Tracks referrals, most popular content
– Can embed video
– Can post photo galleries
– Calendar
– Interactive map
– Latest Twitter feeds add fresh content daily
* * *
Assignment:
So much to share, but how to connect?

The United Way of El Paso is an agency with a huge mission but not a huge staff.  The organization runs on the strategic use of paid and volunteer resources and community partnerships to help provide services and support to some of the county's most vulnerable residents. In its efforts to build a better and more self-sufficient community the United Way strives to motivate El Pasoans to donate, advocate and volunteer. As the county grows larger, younger and more geographically spread out, new outreach methods are needed to rally El Pasoans to "Live United."
Filling the digital space
The United Way of El Paso had a good website with a lot of helpful information once people who were seeking out the organization got there.
The challenge was how to connect with the community on a daily basis and to reinforce the United Way of El Paso's three impact areas of Early Education, Basic Needs and Financial Stability.
Adding a blog page offered a chance to tell the success stories, explain projects in more detail and celebrate the work of partners – that all reinforced the United Way message. The blog attracts web traffic to the United Way of El Paso County's website and is tied into the agency's Social Media content.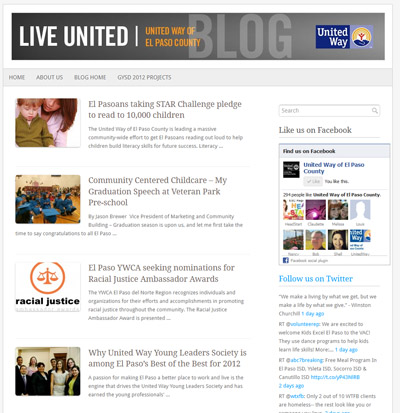 More photos, more news equal more connections generated by the United Way staff who can now publish their stories on their own and not have to rely entirely on local media to get the word out.
Facebook pages and Twitter accounts had been set up and used for occasional messages, but the organization wanted more structure and focus. We set up a planning template based on the organization's three impact areas of Money, Education and Basic Needs as well as the action areas of Volunteering, Advocating (Leadership) and Giving (Philanthropy). Now the staff thinks in terms of content that reinforces the organization's mission and can be more efficient about getting an appropriate audience-building message out every day on one or more of their digital channels.