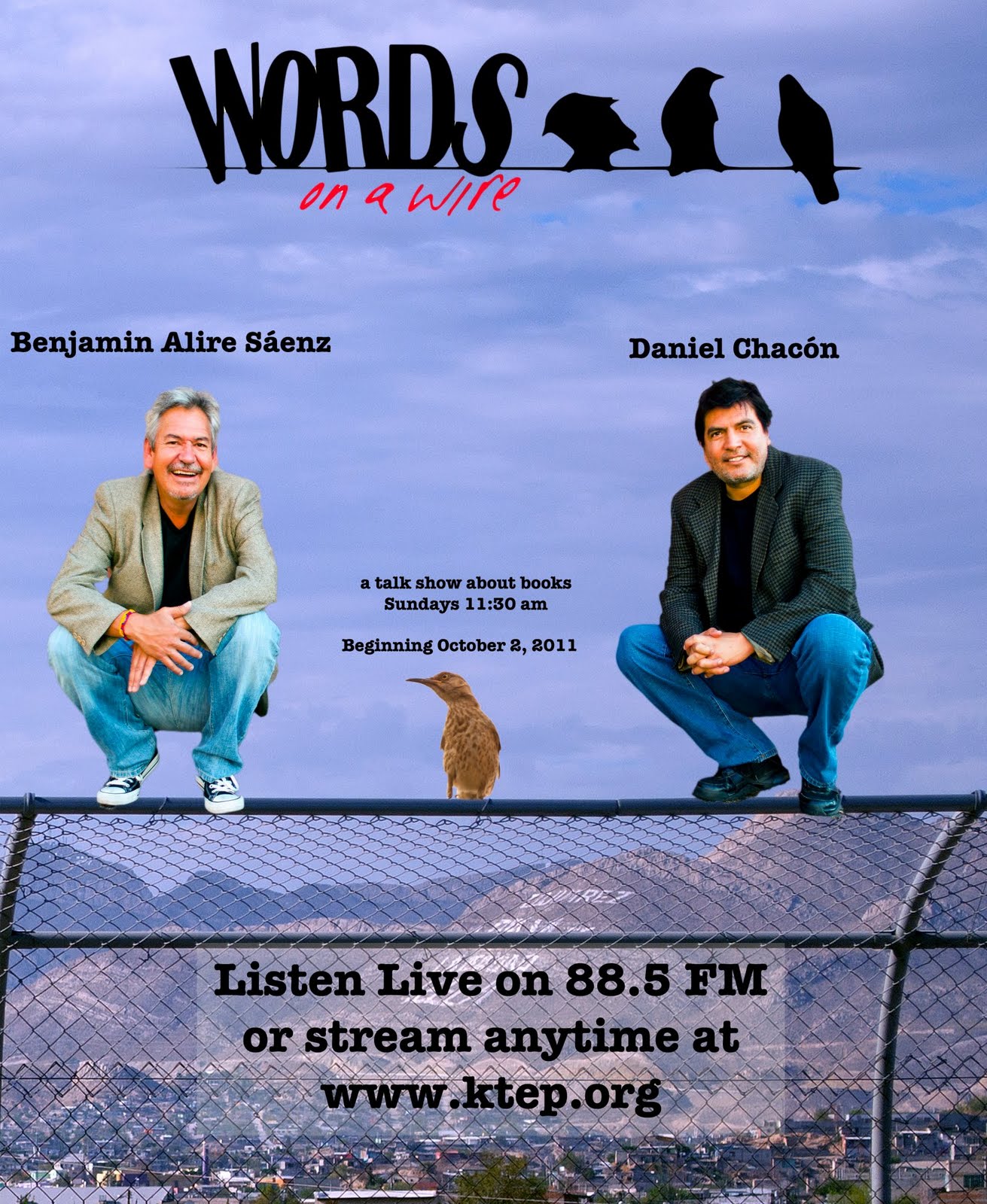 You may not at first think of the U.S. Southwest as an incubator for literary innovation until you realize that its artists  know that borders are artificial  and arbitrary and they can't resist crossing them.
And it is obvious El Paso, Texas, has become a key stop on the journey with the likes of literary stars Cormac McCarthy, Dagoberto Gilb,  Raymond Carver, Pat Mora and José Antonio Burciaga passing through.
Now author Benjamin Alire Sáenz brings home the prestigious PEN/Faulkner award for fiction writing and gives the border credit for his career.
"These are the people who have given me words. These are the people who've given me life," Sáenz told Fronteras reporter Mónica Ortiz Uribe.
Multicultural, multilingual bridges
Not just a great American author and poet, not just the first Latino writer to earn the PEN/Faulkner prize, Sáenz easily crosses the border between writer and teacher too. He heads the creative writing department at the University of Texas at El Paso, which offers the nation's only bilingual Masters of Fine Arts in creative writing. (Full disclosure: I received my MFA through this program in 2005).
Sáenz, according to one of his publishers, Cinco Puntos Press, "believes the border experience, with all of its turbulence and uncertainty, offers a specific and essential vision to American letters."
Digital frontiers
But why stop with books and lectures when you love writing and reading and teaching and there's a fast-paced world out there where people are wired to their cell phones and tablets?
Fortunately for us, Sáenz teamed up with writer Daniel Chacón to launch
"Words on a Wire,"
a weekly radio show and podcast "about fiction, poetry, the writing community, the publishing world and whatever other issues concern literary writers and readers of books."
Entertaining and packed with great interviews, essays and poetry with established and emerging writers, the show's formula appears to be one part "Fresh Air" with NPR's Terry Gross and one part "This American Life" with guest writers talking about whatever they want during the 3-minute "Poetic License" segment.
"That's the cool thing about doing a radio show hoy en dia – in these days – because people from all over the world can listen. If you have a computer, if you have Internet access, you can listen to our show," Chacón said on a recent episode after hearing from a fan in Madrid.
Going digital also lets Sáenz and Chacón reach out to a diverse network of guests anywhere via recordings or phone. The list of recent guests includes Billy Collins, Sergio Troncoso, Rita Mae Brown, David Shapiro and Paisley Rekdal.
Help build the network
I've been scanning the webs for a similar program produced by active writers and educators and have yet to find anything of this caliber. Some writers choose to just write. Many writers also teach to provide steady income.  By taking to the airwaves, Sáenz and Chacón are crossing new borders as artists to reach an on-the-go audio audience and make a case for the future of literature.
Follow them on Facebook. Check out a couple of shows and, if you like what you hear, send National Public Radio a note to include Words on a Wire in its podcast lineup.